CJ is enjoying a LeapPad movie so I thought I'd share some deals I just got. Yesterday my best friend (a soon to be first time mommy) and I hit 3 thrift stores (2 different Salvation Armys and a Goodwill), the mall and Aldi yesterday. Heres what I got:
First from the thrift stores:
(minus 2 cloth books for the baby that I already sent home with my BF)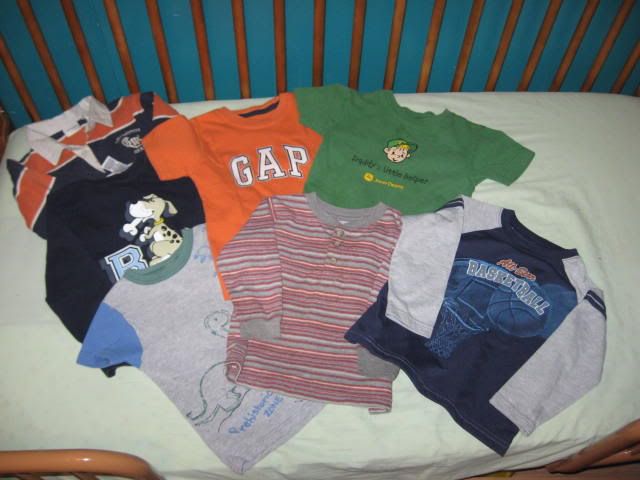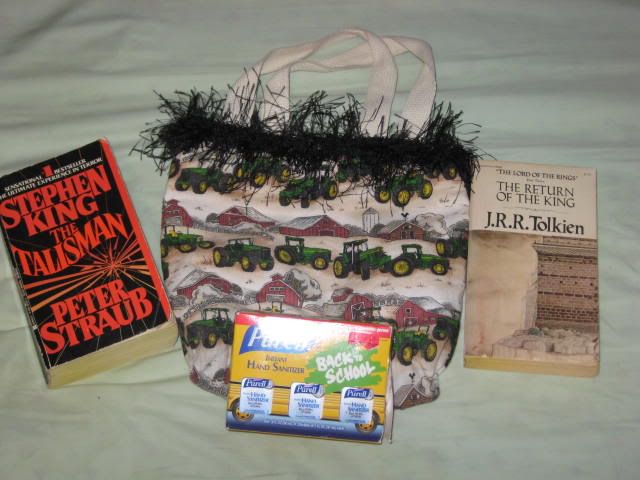 brand new 3pk of Purell $0.99
John Teere tote $1.99
2 cloth baby books $1.98 (not shown)
Stephen King book $0.25
JRR Tolken book $0.25
7 shirts for CJ $10.43 ($1.49 each)
Then on to the mall where we went into Sears (if you have one, GO. alot of their clearance is take an addition 50% off) We also went to the Motherhood store in the mall but of course I didn't get anything from there, BF however did find some good deals on maternity items she needed.
Yes theres 2 shirts on the left that are identical. One is a 4T, alittle too big for now but it will fit soon enough so I went ahead and got it.
5 shirts $11.16
And no pics from Aldi, but I got:
Insulated Bag $0.99 (left mine at home and needed to keep the milk cold)
2 gallons of milk $1.99 each (its $3.68 a gallon for Walmart brand!!)
5lbs sugar $1.89 ($2.43 last time I bought it at walmart and we go through ALOT of sugar)
tortilla chips $0.99
salsa $1.49
Pizza Snacks $2.09
Cheese and cracker snack packs $1.09
Lots of junk food, but I didn't have a grocery list, we just stopped in for milk, so I picked up some things for CJ.
I'm off to do laundry.
Until Next time......