Thanks to my friend
Debi
for this delish Baked Beans recipe.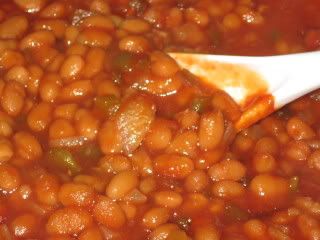 2 tbsp butter/margarine
1/2 med onion, chopped
1/3 c bell pepper
1 can of pork and beans
1/2 tsp liquid smoke
4 tbsp ketchup
1/2 tsp dry mustard
1/4 cup light brown sugar
1/2 tsp worcestershire sauce
Preheat oven to 350. In med saucepan, melt butter. add onion and bell pepper and saute until tender. In large bwl mix beans, liquid smoke, ketchup, mustard, sugar and worcestershire sauce. Add in onion and bell pepper.
Pour into casserole dish and bake uncovered 25-30 min.
Enjoy!
MrsB