Or should I say thousands of envelopes, you make lemonade. Last night I received a huge box of polymailers on my doorstep. There is a couple thousand mailers and 800 sheets of labels. They need to be counted out by hand and sorted for a Co-Op I hosted on a forum I help run. So instead of working on my craft room today I'll be doing that.
Yesterday was quite productive yesterday on my craft room cleanup. I got the table cleared off and the gift "closet" cleaned out.
I have a new recipe to try tonight for supper.
Honey and Herb Pork Chops
4 medium pork chops
3 tablespoons honey
3 tablespoons chopped marjoram
3 tablespoons chopped thyme
salt and black pepper to taste
juice of 1/2 lemon
Serves 2-4
Warm honey slightly in the microwave and brush the chops on each side. Mix the chopped herbs and coat the chops with them evenly. Sprinkle with salt and pepper and drizzle with the lemon juice. Grill or broil chops for 5 minutes on each side, turn and broil another 5 to 10 minutes on each side, depending on the thickness, further away from the heat. Serve immediately.
Time to get CJ ready for the day! He is wearing his favorite shirt and shoes from Jennifer at
Bumble Bear Children's Wear
. Jennifer hand paints shirts, shoes, hats, anything you want painted. We have 2 shirts, a pair of shoes and hat so far. With 3 mroe shirts and a pair of shoes on the way. Heres the items we have so far.
The 18 wheeler shirt was a custom she did for me from a picture I sent her. And the zoo set was CJ's outfit for his first birthday party. And lastly, the shorts were knitted by Heather at
Fairy Crafty.
They both do awesome work.
This shirt she did for a collab hosted on my HC (its still available btw)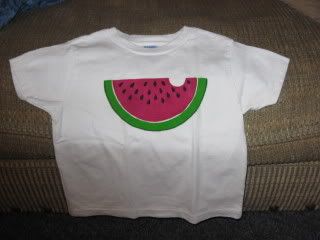 Enjoy your day!
~Mrs B